Helping You Choose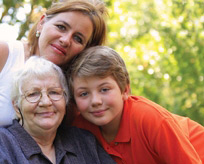 here are several types of over 55 housing and care options for senior living, each offering services specific to the clientele they serve. Finding the right option for you or your loved ones can be daunting, so the more you understand, the better you can make the choice that's right for you and your family. Seniors who are attracted to a retirement community are usually motivated by (1) the desire to reduce the upkeep and maintenance on a home, (2) a medical or health event that causes concern for security and safety, (3) the desire to end isolation in order to live around others and be near family.
Getting Started
Speak with your family or trusted professional advisors to discuss your retirement living options: staying in your home, downsizing to an apartment or condo, moving in with family or moving to a senior community. There are advantages and challenges to every option and even the answer that's right for you today may be different later. At Sierra Pointe, we hope these articles below help provide a senior living roadmap for you and your loved ones.
Helpful Articles
Sierra Pointe Asks The Question
A Systematic Method For Making Difficult Decisions
Glossary of Senior Housing Terms
Community Tour Checklist
Cost Comparison Sierra Pointe vs home
Rental vs Buy-in - Get The Facts
A Table For One - The Hidden Dangers of Eating Alone
How do I Know That My Loved One Needs Help?
Pet Separation
Pros Help Boomers Chart Course for Aging Parents
Handling Objections When a Loved One Needs Help
Home Selling Mistakes
Staging Your Home for Sale
Preparing for the Move
Choosing Assisted Living
The Best of Arizona Business
Ranked in top 10 of Independent/Assisted Communities
Won Ranking Arizona every year since 2000 when we opened
14500 N. Frank Lloyd Wright Blvd.

Scottsdale, Arizona 85260

480-767-9800

Email